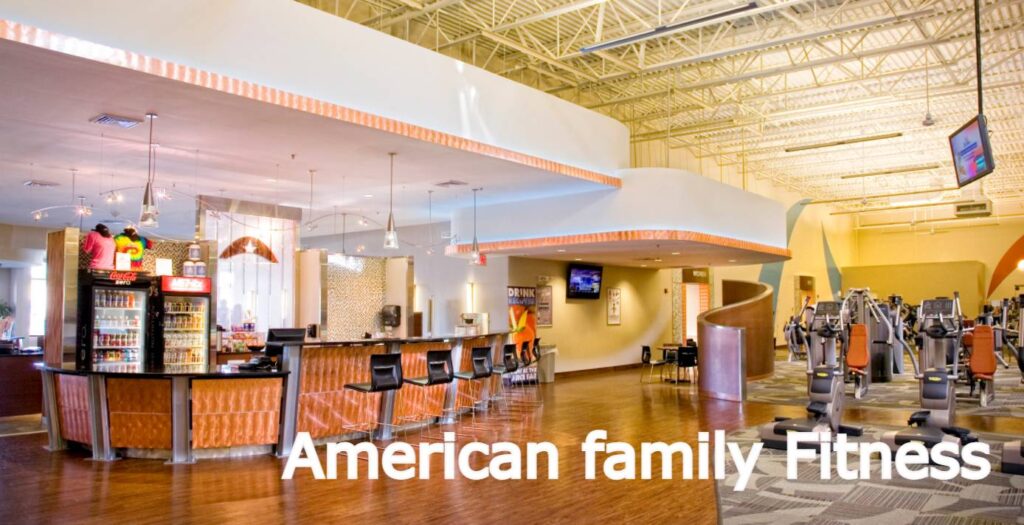 When something becomes necessity, it is imperative that we opt out it with top priority. American Family fitness hours brings you great joy of working out with support from professionals and work under them.
What comes to your mind when you hear the word 'family' other than Dom Toretto? Well, in our opinion the family that stay fit together, lives longer together because let's face it, our daily routine hasn't been the healthy it used to be and today working out is no more an optional activity but a necessity.
and discussing about the other details. Hope this will help you make informed decision about American family fitness locations hours and membership costs before investing your time, money.
As the name suggests, American Family fitness pays attention to the fitness of all the family members. American Family Fitness has programmes and activities for kids of all ages, from babies to tweens, to keep them active, occupied, and interested. Their KidZone, a safe and supervised play area, provides on-site daycare for children ranging in age from one year to thirteen years.
Also, they provide activities particular to each site, such as children's workshops and summer camps like Kamp Kaboom and sports camps. In order to know more about them, let's start with the American Family fitness hours.
What time does American Family Fitness close?
We often drop our plans to join a particular gym due to timing clashes and it is something that should be clarified at the beginning. The American Family fitness hours are quite different as American Family fitness schedules are different for the weekends too. The American family fitness opening hours begins at 5 a.m. and remains open till 11 p.m. throughout the Monday till Thursday.
The timings on Friday changes from 5 a.m. in the morning till 9 p.m. in the evening. On Saturdays, club opens at 7 a.m. and on Sundays the club opens at 8 a.m. while the American family fitness closing time remains the same at 8 p.m. throughout the weekend. We encourage the interested customers to check with their nearest franchise regarding the timings as they are subjective to change.
American Family Fitness Hours
| Day | Hours |
| --- | --- |
| Monday | 5 AM – 11 PM |
| Tuesday | 5 AM – 11 PM |
| Wednesday | 5 AM – 11 PM |
| Thursday | 5 AM – 11 PM |
| Friday | 5 AM – 9 PM |
| Saturday | 7 AM – 8 PM |
| Sunday | 8 AM – 8 PM |
How much does American Family fitness Membership cost?
Members receive a free consultation with a qualified professional trainer to determine what programmes are most suited to the client's needs. In addition, Americal family fitness membership cost provide unrestricted usage of their center's equipment and facilities.
During the sign-up process, members are additionally evaluated for any possible injury risk using Functional Movement Screening. The American Family fitness membership plans are available in two types- single and dual adult plans.
The best thing about American Family fitness is that there is no initiation fee for any plan. The American Family fitness membership cost is available for a monthly fee of $39.95 and the American Family fitness annual fee is $49 only for single and dual adult plan.
American Family fitness Prices
| Membership Plans | Price |
| --- | --- |
| Single monthly plan | $39.95 |
| Dual monthly plan (2 adults) | $72.95 |
| Single annual plan | $720 |
| Dual annual plan (2 adults) | $1020 |
Locations–American Family fitness
The American Family fitness currently operates in the state of Virginia and has its headquarters in Richmond. The American family fitness locations are available in nine locations around the state of Virginia including places like Richmond, Fredericksburg, Midlothian, Mechanicsville, Granite City and Williamsburg areas. They plan on expanding to other states of the USA soon.
Cancel American Family Fitness membership
The steps to cancel American Family fitness membership is rather simple and easy to follow. Customers have the option to either visit their outlet or reach out the front desk where they will be provided with a cancellation form. These forms can be submitted right at the front desk or if you mail them at their customer support email ID, it will serve the same purpose.
Can you bring a guest to American Family Fitness?
Yes, American family fitness welcomes visitors from the club administrations. They would need to inform the club's administration prior their visit and provide an important proof. However, visitors need to be 18 years of age and $20 expense will be charged for every session.
Can you freeze American Family Fitness membership?
Yes, you can opt to freeze your membership for medical or elective reasons. You will receive an automated email confirmation once you submit request for your account freeze.